HYDRAIL: PRELIMINARY PROPOSAL
This page undergo frequent updates
Project Approach Base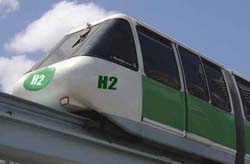 There are a handful of HYDRAIL technology/solution providers in the world. The utilization of
Hydrogen Fuel Cell
in a high speed 'bullet' train is relatively a new innovation even though bullet train and fuel cell technologies separately have existed a very long time on their own. Japan is the first nation to test, construct and operate successfully a Hydrail system. It began rolling out and commence operation only in mid 2006.
CAEDZ, LLC
is looking beyond simply from the technology stand point: we look for the best innovation from both the financial model and the comprehensiveness of the infrastructure integration aspect. The transportation requirements of the
INITIATIVE
must demonstrate the ability to interconnect various other form of transportation systems as well as with competing (similar) technologies. The
CORRIDOR
after all, is a very large living showroom that focuses on promoting all that is clean, green and renewable. As such, Caedz is working directly with principal technology providers and major multinational concessionaires to develop and design a holistic approach to the integration of technologies with financial model that can provide comprehensive and practical application of everything that is clean, green, renewable and highly innovative transportation solutions.
Hydrogen Super High-speed Rail built for the CORRIDOR
While the CORRIDOR will have three new toll zero-emission (hydrogen) highway running parallel from Cirebon to Bandung, passing through Kertajati Aerocity, and another toll zero-emission (hydrogen) highway from Kertajati Aerocity to Jakarta, it will still be critical to lay and install a high speed bullet train system along the same destination and beyond to other major cities, including Jakarta, because of the major international airport located at Kertajati Aerocity. The new airport, which is currently under construction at Kertajati, is mandated to eventually serve more than 90 million passengers a year. This will require major public transportation to link to key and major cities in the island of Java.
CAEDZ
has selected a unique and innovative solution to meet the public transportation requirements of the CORRIDOR. This selection was expedited after the Indonesian Government approved to the construction of a high speed bullet train and posted the announcement of their decision and request for proposal on the national government's official website last March. The solution selected will fulfill the need to have a high speed train system and at the same time it will be a clean, green and renewable solution. A hydrogen bullet train will be installed to provide an integrated on-demand public transportation mesh with other real estate assets and public services on the CORRIDOR. The Hydrogen High-speed Rail Superhighway (
H2RSH
) system is based on the integration of
Interstate Traveler
's
Hydrogen Superhighway
technology with other components of the
CORRIDOR
's infrastructure and
transportation
systems.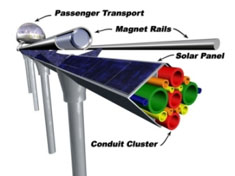 The unique approach and design of the Hydrogen Superhighway technology from Interstate Traveler Company, particularly the utilization of Conduit Cluster design (as shown in diagram on your left), introduces a business model befitting to the CORRIDOR's overall design challenges and opportunities - an infrastructure that enables and promotes the production and distribution of renewable energy along a major transportation pathway and in so doing connects and integrates communities along the pathway with no additional cost.
PHASE 1
of the Hydrogen High-speed Rail Super Highway (H2RSH) Project will connect
Cirebon Seaport
, at the east end of the rail track, passing and stopping at
Kertajati Aerocity
, 80 km directly west of Cirebon,
Bandung
, 100 km directly west of Kertajati,
Central Jakarta
, 160 km north west of Bandung, and ending at
North Jakarta
, 22 km north north west of Central Jakarta - a total of
357 km
long. At an average speed of
288 km per hour
and an average of 1 minute stop at each station, the ITC H2RSH hydrogen bullet train can take less than 1 hour and 30 minutes to travel from end-to-end.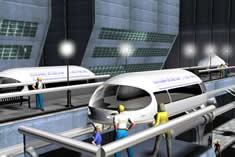 The H2RSH Phase 1 will comprise of 10 sets of four large transport and one regular transport units or a total of 40 large size transport and 10 regular size transport units. The
regular transport
unit accommodate
100
commuters whilst the
larger transport
unit accommodate
200
commuters. The transports are scheduled at 10 minutes apart and runs 24 hours a day. Phase 1 of the H2RSH has a maximum capacity to shuttle
211,200
commuters per day.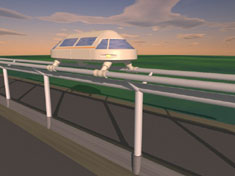 With the rail track to cover a distance of
357 km
long, this provide a solar surface at ~ 22% efficient solar panels would produce 376,780,800 watts/hour or 3.7 MW per day. Some of the energy from the solar and water will produce hydrogen fuel, which in turn will provide the fuel to operate the rail transport system. The H2RSH rail transport system planned for the CORRIDOR will require less than 1% of the energy required to operate the tranpsort carriages. The surplus energy produced by the H2RSH system will be distributed to the grid, providing cities along the bullet train track electricty and hydrogen fuel supply.
Additional information on the Project H2RSH Indonesia: